Scrubs 3x6
My Advice to You
A chance meeting in the elevator sparks a new friendship between J.D. and the mysterious Danni whose ongoing dialogue about her ex forces J.D. to talk about his feelings for Elliot.
Carla's brother Marco comes to visit, but he still hasn't forgiven Turk for mistaking him for a valet at their mother's funeral. Unfortunately, Turk can't even apologize because Marco can't speak anything but Spanish.
At the hospital, Dr. Cox relishes his new job promotion but is surprised when J.D. doesn't follow his lead in contradicting Dr. Kelso's orders.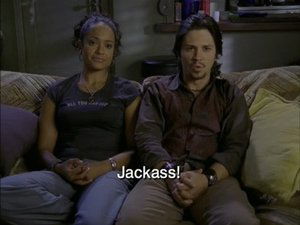 Nov. 13, 2003